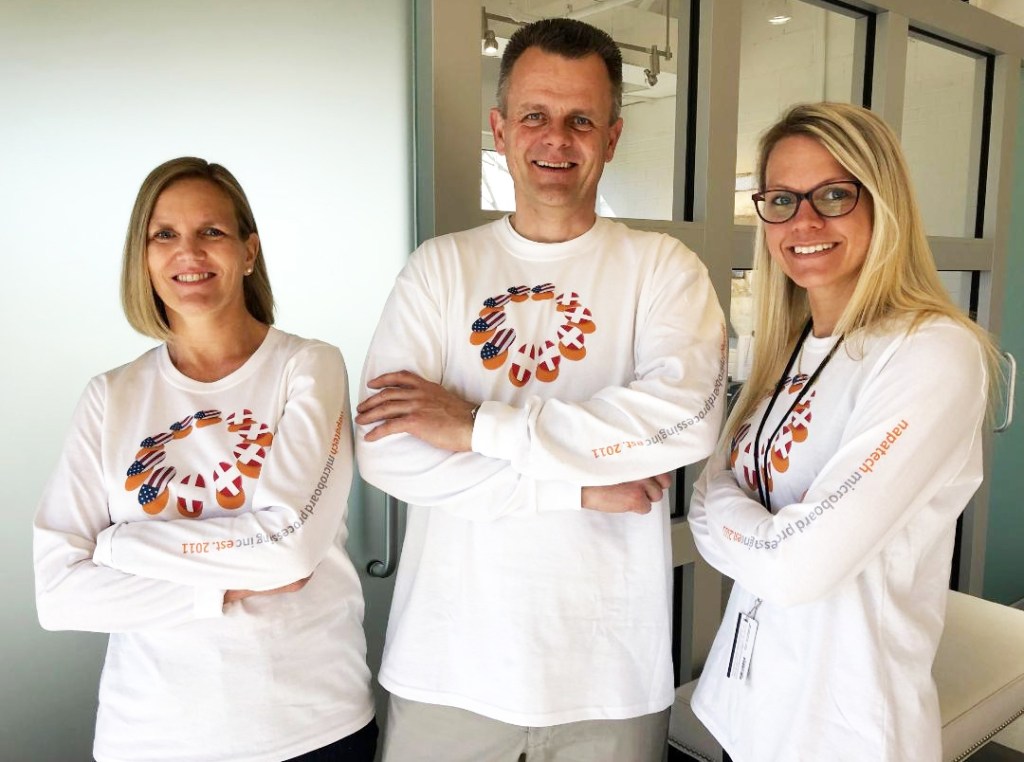 Photo (from left to right): Napatech's Liselotte Jørgensen, Bo Guldager, and Jessica Taylor.

On July 3rd, Lee Cantelon sat down with Microboard Program Manager, Jessica Taylor, to learn more about her work with Napatech (posted by Liam Fitzgerald).
"It's been a fast paced trajectory for me," Jessica began, "going from my entry position at Microboard in 2015, to becoming a Program Manager for Napatech, one of our company's most exciting customer partnerships. My career at Microboard started out, quite humbly, in HR and Finance. I was a newly hired, hourly employee and yet I knew from the start that Microboard was the company I wanted to be part of.
"I was willing to learn and get involved with new projects and ideas, and my supervisor, Bill Cabral, was such a help. Bill had been with Microboard for many years, and he was patient and a great teacher. I also learned a lot from Microboard's founder, Craig Hoekenga, who was personally involved in all aspects of the company, and President and CEO, Nicole Russo. Nicole's goal-oriented, organized approach, and her ability to manage 100 details while working hands-on with her team and inspire them forwards, is a big part of my success. As a company and culture, Microboard is very much about building strong internal relationships that extend outwards to all of its' suppliers and customers. Communication and transparency is emphasized at Microboard, and I see it as one of the differentiating factors that sets us apart from other, like-industry companies.
"I was fortunate when, at the end of my first year at Microboard, a position became available to work with one of Microboard's most important customers. Napatech is a company based in Copenhagen, Denmark with offices in other parts of the world, including here in the United States. The new responsibility was a huge step forward for me, and I approached it with enthusiasm and a willingness to put in the extra hours needed. Looking back, I'm grateful for such an amazing opportunity and the rewards it has yielded, both professionally and personally.
"In 2017, I was promoted to Program Manager, something I would have never envisioned when I was hired two years earlier. From day one, I made sure the team at Napatech had my cell phone number and personal email, and that they felt able to communicate with me, no matter the time difference between the US and Denmark, whenever the need arose. We quickly established a bond , and I've witnessed how our ability to integrate and develop these kinds of relationships allows Microboard to become part of our customers and suppliers team and family. This approach has helped make it possible to respond to Napatech's immediate and long-term goals, and to be a valuable partner in their success.
"Working alongside Marie Ribeiro, our in-house buyer, and with Napatech's Bo Guldager and Liselotte Jørgensen (pictured in photo), has been a wonderful experience. I've even had the opportunity to travel to Denmark to spend time in Napatech's Copenhagen headquarters to learn more about their corporate philosophy and vision.
"Napatch's a special company with a very unique objective: their goal being to be the global leader in reconfigurable computing platforms and to help companies of all sizes enhance and accelerate their performance. The products they are building speak to a growing need in a world that is faster-paced than ever before, and where a variety of data needs to be communicated in volume and with velocity. Helping Napatech achieve this challenging goal – offering a quality and secure world-class solution – is a rewarding experience for me and my team every single day."
To contact Jessica Taylor directly for more information or to comment, write to: jtaylor@microboard.com