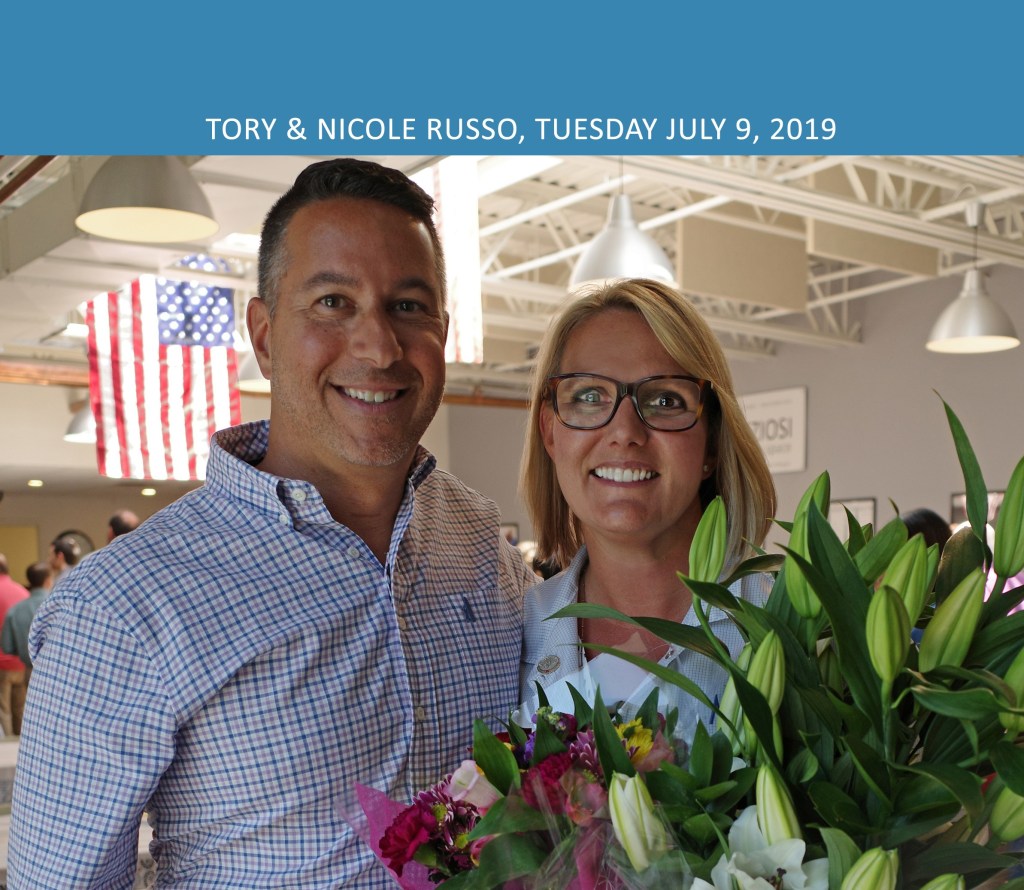 Photograph: Nicole with husband Tory Russo, in the Don Preziosi cafeteria, Tuesday, July 9

To say that Nicole got her first work experience at Microboard would be accurate. Nicole's father, Microboard founder Craig Hoekenga, encouraged all three of his children to get started early, and that the life lessons and professional ones too, would serve them well as they furthered their education and began to make serious life choices. While still in high school, Nicole began interning at Microboard and had a chance to have hands on, practical experience in a company that was growing rapidly and discovering what it meant to provide "excellence across the board." This simple motto has remained an accurate definition of what the company is about till this day.
On Tuesday, July 9, the team at Microboard surprised Nicole by recognizing her part in Microboard's success over the past thirty years. During that time, Nicole not only learned what it takes to excel in the world of contract electronics manufacturing, but has been able to watch the industry change as technology has changed. In her current role as company president and CEO, she has demonstrated her ability to put this combined knowledge to use, anticipating industry trends and finding ways to be responsive to customers' needs.
I was able to present Nicole with the award that we had prepared, and to thank her for being a significant influence in my life. Having known Nicole since her first days at Microboard, I have had the privilege of seeing her become the leader and forward thinker she is today. Whenever I'm on site at Microboard's Seymour, Connecticut facility, I benefit from Nicole's ability to mentor, inspire, and bring the staff together to tackle projects, solve problems, and be their best. I've been able to learn a lot from her approach, and I know that all of our customers are grateful to have Nicole championing their products and success.
Lee Cantelon