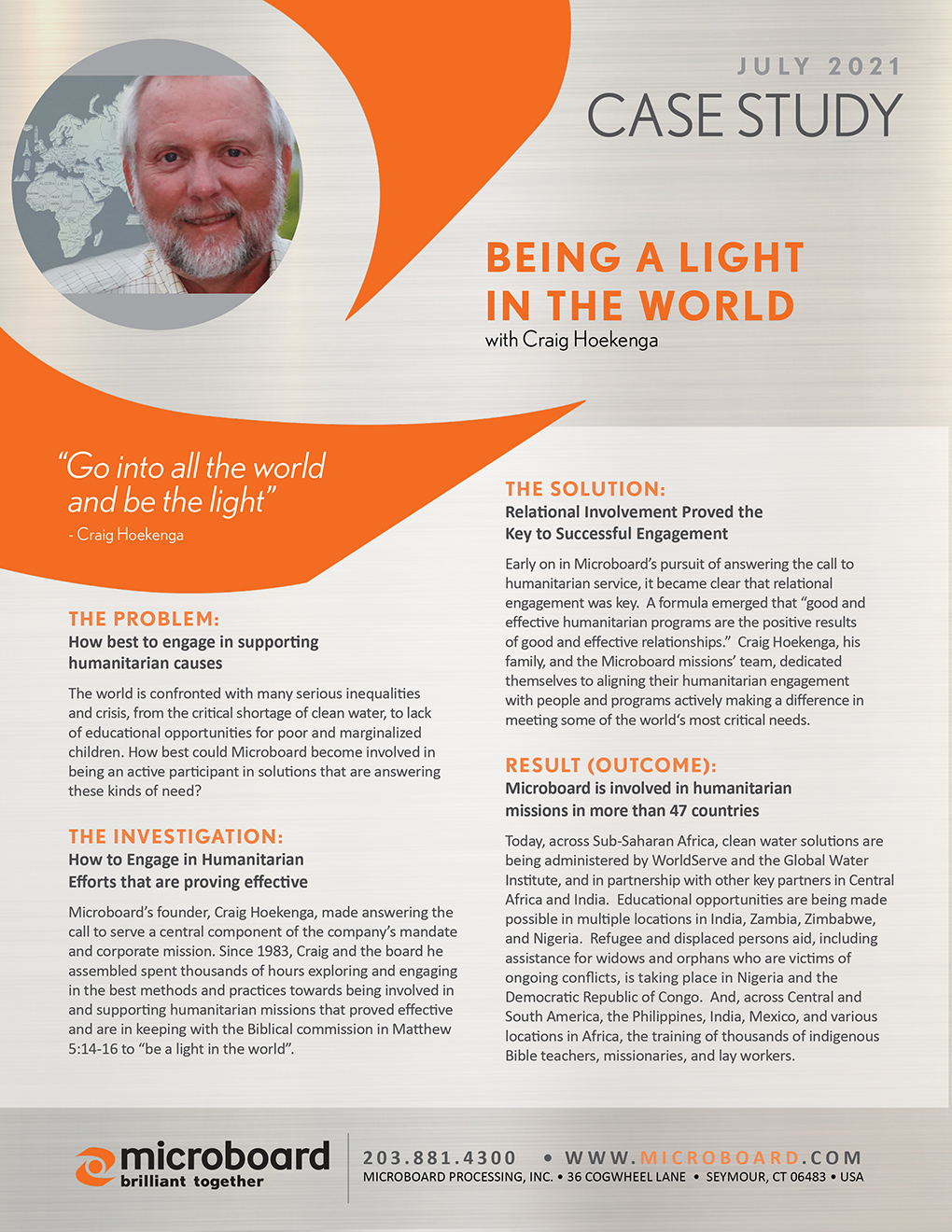 CASE STUDY
Being a Light in the World with Craig Hoekenga
"Go into all the world
and be the light"
THE PROBLEM
How best to engage in supporting humanitarian causes
The world is confronted with many serious inequalities and crisis, from the critical shortage of clean water, to lack of educational opportunities for poor and marginalized children. How best could Microboard become involved in being an active participant in solutions that are answering these kinds of need? 
THE INVESTIGATION
How to Engage in Humanitarian Efforts that are proving effective
Microboard's founder, Craig Hoekenga, made answering the call to serve a central component of the company's mandate and corporate mission. Since 1983, Craig and the board he assembled spent thousands of hours exploring and engaging in the best methods and practices towards being involved in and supporting humanitarian missions that proved effective and are in keeping with the Biblical commission in Matthew 5:14-16 to "be a light in the world".  
THE SOLUTION
Relational Involvement Proved the Key to Successful Engagement
Early on in Microboard's pursuit of answering the call to humanitarian service, it became clear that relational engagement was key.  A formula emerged that "good and effective humanitarian programs are the positive results of good and effective relationships."  Craig Hoekenga, his family, and the Microboard missions' team, dedicated themselves to aligning their humanitarian engagement with people and programs actively making a difference in meeting some of the world's most critical needs.
THE RESULT (OUTCOME)
Microboard is involved in humanitarian missions in more than 47 countries
Today, across Sub-Saharan Africa, clean water solutions are being administered by WorldServe and the Global Water Institute, and in partnership with other key partners in Central Africa and India.  Educational opportunities are being made possible in multiple locations in India, Zambia, Zimbabwe, and Nigeria.  Refugee and displaced persons aid, including assistance for widows and orphans who are victims of ongoing conflicts, is taking place in Nigeria and the Democratic Republic of Congo.  And, across Central and South America, the Philippines, India, Mexico, and various locations in Africa, the training of thousands of indigenous Bible teachers, missionaries, and lay workers.
"There are very few people or organizations I have met during more than twenty-two years of missions with SIM and ECWA in Nigeria who have taken answering the call to serve as seriously or become engaged as effectively as Craig Hoekenga and Microboard, the company he founded in the early 1980's. Their dedication to serving the poorest and most vulnerable segments of society in some of the most challenging and damaged places in our world is making a difference."  – Peter Fretheim, City Ministries, Jos, Nigeria