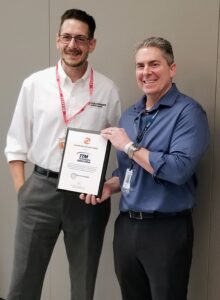 As part of our commitment to continuous improvement, not just within Microboard but with our vendors as well, Microboard visited TTM's Forest Grove Facility. TTM Technologies is a global leader in technology solutions and PCB manufacturing. Focusing on quick-turn and volume production of technologically advanced PCBs and backplanes.
The purpose of the visit was to audit and review for approval the new PAL ENIG line, a critical step within the manufacturing process of bare PCBs. TTM Forest Grove has been a long-term, consistent, high-quality supplier offering collaborative support that has developed into a strong partner, building critical defense PCBs. Our teams have worked closely together through many complicated challenges. This partnership yielded highly successful and repeatable projects across four different assemblies with multiple complex designs in high volume.
Gerard LaMorte, TTM Forest Grove's facility General Manager, was pleasantly surprised and grateful to be presented the Microboard Brilliant Award by Attila Bordas. The award stated "Consistent and unwavering support, superior performance in the fabrication of the highest quality printed circuit boards, and sincere appreciation for being brilliant together as a key Microboard partner in manufacturing life-saving and life-changing electronics." Microboard seeks to build partnerships based on the foundation of execution tailored to customers' unique requirements.
In attendance for the presentation of the award were:
Microboard:
Attila Bordas – Director of Program Management – Technical Lead
Damion Thompson – Senior Quality Engineer
TTM Technologies:
Catherine Gridley – Executive Vice President, Aerospace & Defense Business Unit President
Tom Clapprood – Vice President Sales Aerospace & Defense Business Unit
Gerard LaMorte – Forest Grove, GM
Alan Preston – Director of Quality
Scott Danko – Director of Engineering
Alan Fontaine – Strategic Account Manager