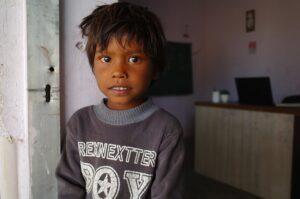 Microboard is much more than just an EMS provider. Since our founding, Microboard's core mission has been to support the world's poorest of the poor. By partnering with organizations around the world, we seek to meet the needs of marginalized people and crisis-impacted areas of our world. Since 2014, Microboard has been annually involved with Project Hope to provide quality, fully accredited, English medium education to underprivileged children living in slums and absolute poverty in Jaipur, Khirni Phatak, Assam, Orissa, and Chhattisgarh, India. In March 2023, Microboard made its annual on-site visit to Project Hope. Our mission here goes beyond K-12 education, incorporating clean water programs, vocational training, women's literacy programs, boys' and girls' hostels, and free medical aid to students and families. Founded in 2017, Joseph's International School, the first Project Hope school in Jaipur, welcomes children from surrounding ragpicker encampments offering them meals, followed by classes and handing out clean clothes.
It took a lot of determination from the team to convince parents from the ragpicker communities to allow their children to attend school. In India, ragpickers are not just at the bottom of a brutal caste system but are practically in a caste system all to themselves. A category that is so outcast it can make them almost invisible to the world swirling around them. There are an estimated four million ragpickers in India today. That's four million people accustomed to thinking of themselves as less-than, who raise children believing they are the same as the stray dogs and cats who, just as they do, roam Jaipur's streets at night. Often, families of ten or more all fit into makeshift dwellings that are assembled with bits of plastic fencing, corrugated tin, signboards, sheets of cardboard, and some canvas tarp to keep out the rain. Lee Cantelon, Director of Foreign Missions, says, "Encounters like these can be draining emotionally, like having a spotlight turned inside yourself that reveals just how privileged and soft, and apathetic you are in comparison to the very real and present plight of human suffering."
Both boys and girls ragpickers, beginning at 7 years old, rise before dawn to get a head start on gathering whatever they can find that might have some recyclable value. After 7 or 8 hours, the trash is sorted and sold to recyclers for a few pennies. The average income is around $100 annually. This is the ragpicker life, and it is their future. There are no exit strategies, and there are no upward mobility plans in motion, but then a mission like this comes along and dares to challenge this reality. The new education center welcomes children for a few hours every afternoon after the days ragpicking and recycling are done. First-time students are always mesmerized by the brightly colored textbooks and art supplies. But most importantly, they feel accepted and loved. This is where Lee met 6-year-old Chandi. Check out the full blog to read about Lee and Chandi's ground-shifting encounter.
About Microboard:
Microboard is a Connecticut based electronics manufacturing service (EMS) provider delivering circuit card assembly, system integration, and test services. We're your source for high reliability and high complexity electronics manufacturing across the Defense, Medical, Telecom, and Industrial market sectors. From simple designs to complex systems, Microboard provides complete solutions beginning with new product introduction to manufacturing fulfillment. We are committed to excellence, motivated by a higher mission, and led by our 3 guiding principles, the 3Ps. Process Excellence, Partnership, and People.
Along with our strong engineering staff and test and RF test design team, our leading-edge equipment and software are capable of placing the industry's smallest parts, building some of the most complex, challenging, and fail-critical boards in the world. Microboard's motto of "brilliant together" is an unassailable guarantee to our customers, from government contractors to innovative startups looking to amaze the world. Answering the call to world service is a significant and inseparable part of Microboard's company culture. Through aid projects in 9 different missions around the world, humanitarian commitment is our enduring purpose. Brilliant Together.
Learn more about Microboard's Humanitarian Projects
Follow Microboard on LinkedIn | Instagram | Facebook
Read more about Lee's story