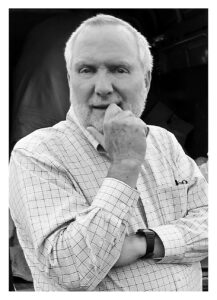 Craig T. Hoekenga will surely be remembered for many achievements, but how he would wish to be remembered most is for his unwavering commitment to serve the most vulnerable of this world — widows, orphans, displaced persons, street children in the slums of India and Africa, or as he would often say, "among the poorest of the poor."
Craig heard the call to serve when he was a young entrepreneur beginning MPI, the high-tech electronics manufacturing firm he founded in 1983. From its humble start, servicing phones and electronic toys, Craig's drive for innovation and excellence propelled MPI to become a prominent name in the high-tech electronic contract manufacturing industry, producing the most advanced electronics in the world, sought after by discriminating customers, branches of the U.S. Government's Department of Defense, and in 2019, inducted into the Manufacturing Hall of Fame. In spite of such unprecedented success, Craig's "yes" to God's call remained his most precious possession. It became a binding covenant; from that day on he would donate all the company's profits at the end of each fiscal year to support programs that serve the most desperate regions of the world. For nearly four decades, this covenant has never been set aside. Today Microboard is privileged to support nine different missions spread across India, Zambia, Zimbabwe, Kenya, Tanzania, the Democratic Republic of Congo, Nigeria, and in Central and South America.
Answering the call to serve influenced every aspect of Craig's personal and professional life, as evident in the 1997 Wall Street Journal article that spoke about his innovations in hiring men and women in need of a second chance, or the inner-city counseling he would do many Sundays to help lift those living in poverty toward a better life.
For relaxation, he loved reading, listening to podcasts, especially Pastor Chuck Smith's sermons, golfing with his friends (once winning the Travelers Pro Amateur with his friend, Chris Koehm), and traveling the world with his wife, Sandy, to whom he was married more than 50 years, often accompanied by their children, grandchildren and special friends. In 2017, one of these trips was to visit the school Microboard supports in Jaipur, India, along with his daughter, Nicole, and grandson, Michael.
Craig is survived by Sandy, who shared his devotion to missions, and his loving children, Nicole and her husband, Tory, of Fairfield; Craig II and his wife, Tracy, of Newtown; and Ashley and her husband, Alex, of Fairfield; as well as seven wonderful grandchildren: CJ, Ella, Matt, Michael, Trey, Emmy and Xander. Craig is also survived by his sisters, Candy, Debbie and Beth; brothers, Clark and Bruce, and 11 nieces and nephews. He is predeceased by his parents, Thomas and Betty Hoekenga, and brother, Mark. During this time, the family finds their strength in their profound faith, in their commitment to carry on the business that Craig founded, and in knowing that the missions he supported is their most valued inheritance. Craig went home to be with the Lord knowing that his legacy will continue on.
Special thanks to Lee Cantelon, the son of Craig's lifelong friend, Willard Cantelon, for his unwavering leadership in Microboard's missions commitment, and to Andrew Stewart for his wonderful caregiving during the past three years, allowing Craig to remain at his beautiful farm with Sandy, enjoying family gatherings and an array of pets and wildlife.
Craig did not want there to be any tears or excess grieving at his welcome passing to Heaven, and he spoke of this frequently toward the end. Instead, he hoped that people's hearts might be joyful in recalling the great times, God's blessings, family, and friends enjoyed throughout the years. Appropriately, he spent his last afternoon as part of a Zoom call with one of the missions projects in northern Nigeria. At the end of that call, Craig spoke these exact words: "I pray that this vision will become clearer and clearer, and that we will focus on what will turn the most people to you, Jesus."
That was 2:16 p.m., Wednesday, April 28. Less than 24 hours later, Craig went home to be with the Lord he loved and served. His final words expressed a legacy he had forged for all of us — to remain faithful to God's plan for our lives, to do all that we can to alleviate suffering and bring people closer to a loving savior, to be comforted, and granted a better life.
The passage from the Bible Craig chose to live by is from St. Paul's letter to the Philippian church (Philippians 1:6). He once had it printed on Olympic batons and gave them to his children, and it reads: "I am certain that God, who began the good work within you, will continue his work faithfully until it is finished …" Craig will be remembered this way, as an example of God's faithfulness, and for a good work completed and passed on to us all.
An intimate celebration of life for Microboard employees will take place 12:30 p.m. June 4 at Microboard's Seymour location, and a COVID-safe celebration for all other family and friends will take place at Microboard at 1 p.m. June 5. Please dress business casual as Craig would have wanted. Donations can be made in Craig's honor to:
People Care International
C/O Thomas, Judy, & Tucker
Suite 400
4700 Falls of Neuse Road
Raleigh, NC 27609
FROM JAMES BYENSI FROM THE DEMOCRATIC REPUBLIC of CONGO
"It is with divided emotions that we learn of Craig's passing, sadness that he is no longer here with us, and happiness too, knowing that he is in the heaven with the Lord he believed in and lived for so completely. While we never had the chance to meet him physically, we knew him profoundly because of his selfless and generous support for displaced persons and refugees, orphans, widows, families living in absolute poverty, often inside conflict zones, and through incredible testimonies from among the hundreds of thousands of disadvantaged people he helped in dozens of countries around the world." – James Byensi
Founder/Director, Les Rebattiseurs; Democratic Republic of Congo
Note: James Byensi is the founder and director of Rebuilders (Les Rebattiseurs) mission based in Bunia, Democratic Republic of Congo. He is a spokesperson for peace and reconciliation, and for a cease fire in the conflict in Ituri Province, an area that has seen continuous fighting since 1996, claimed more than 6 million lives, and produced more than 5 million refugees.  Since 2018, Rebuilders has been a mission that Microboard has sponsored, helping to provide immediate aid to the displaced and refugee populations, as well as the establishment of Radio Rebuilders in 2021 in the months prior to Craig's passing.