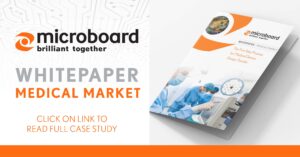 In today's marketplace, Medical Device Manufacturers are looking for partners that help optimize their business interests without compromising their Regulatory Status. Microboard maintains several ISO registrations, including ISO13485, and is compliant with 21 CFR Part 820 Quality System Regulations. Our manufacturing facility in Seymour Connecticut, USA has the experienced team and advanced tools necessary to meet changing industry regulations, giving our international and domestic partners peace of mind and confidence in maintaining their compliance.
Microboard works together with our OEM partners to bring new and established medical devices to market. Working together, we create common goals – whether it be pre-production support or as part of design transfer. Our innovative, responsive, lean manufacturing processes and tools lead to quality results and on-time delivery you can depend on.
Among the biggest challenges that the legal manufacturer of an FDA-regulated medical device faces is efficiently managing the design transfer process when outsourcing to an Electronics Manufacturing Services (EMS) provider. Learn how Microboard's dedicated Medical Device team uses a five-step process to ensure compliant design transfer requirements are met and maintained. Download our medical market whitepaper "Compliant Medical Device Design Transfer" today!